Around-the-Clock Leak Protection and Monitoring for Your Home
The SimpleSENCE™ Water Leak and Freeze Detector is an in-home, WiFi connected, multi-sensor system that instantly detects and alerts the user to water leaks and extreme temperature variations. Available in single unit or multi-unit packs, you have 24/7 leak and freeze protection throughout your home for your family, and your valuables.
Dependable, Reliable, and Trustworthy
Secure, Fast & Easy Set Up - Connects to your Home 2.4G Wi-Fi

No Additional Equipment Needed or Monthly Subscription Fees

Unlimited Sensor Placement and Alert Notifications

2-year Battery Life with Easy-to-Replace 2 AAA batteries
Multi-Sensor Protection
SimpleSENCE™ Water Leak and Freeze Detector can be positioned in numerous leak prone areas throughout a main residence; as well as additional locations, such as vacation homes, rental properties, places of business, and aging relatives' homes.
Instant and Customizable Alert Notifications
Simultaneously sends alert notifications to your smartphone while activating the sensor audible alarm to prevent any major damage that would otherwise go undetected.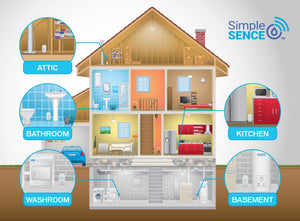 SimpleSENCE, the Simple Choice for Leak Protection